Building Homes, Building Hope!
Arkansas City Habitat for Humanity is a non-profit, ecumenical Christian ministry whose mission is to partner with qualified families in need and provide them the opportunity for safe, decent, affordable housing.
Applications will be accepted from February – April/May. The partner family will be selected by the first of June, The house will begin building in September and be finished by the end of February.

Work Starts on House 17
Press Release
Much work has taken place in recent weeks on Habitat for Humanity of Arkansas City's 17th habitat home, at 304 N. Eighth St. The habitat home is being built for partner family Shelly Dixon and her two children. The work included roughing in the plumbing, mechanical and electrical systems prior to installing insulation, and sheetrock. Mark Bartlett roughed in the electrical load center, and added the masthead, meter box and wiring circuits for the house. Jamie Terrill, owner of Terrill Plumbing, and his son, Logan, roughed in the interior plumbing, including tub and shower units. John Bahruth and his crew of Geoffrey Schwartz, Chris Twilleger and Blake Bahruth, of John's Heating and Air Conditioning, installed the heat pump, furnace blower and duct work for distributing heating and cooling to the house. Mike Neal, of Mike Neal Construction, and a crew of two installed the metal roof on the house and a crew of Habitat volunteers installed the vinyl siding and soffits. Curt Freeland, president of the local habitat affiliate board, expressed the heartfelt thanks of the Habitat board for the capable, professional work by Mark Bartlett, Terrill Plumbing and John's Heating and Air Conditioning, as well all the volunteers.
Press release courtesy of: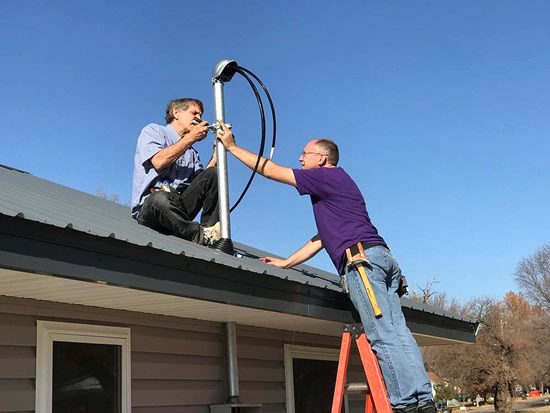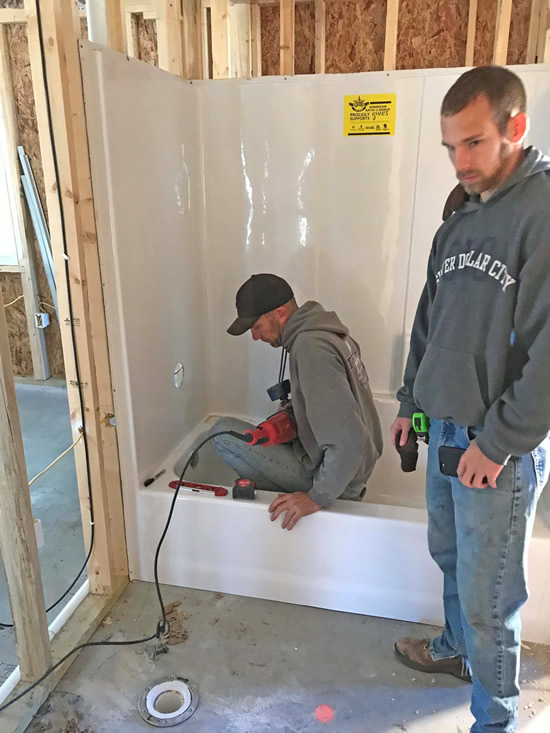 To get a better understanding of what Habitat for Humanity does, please watch these videos.

2015 Habitat For Humanity

Thank you Cowley College for producing this.
<![if !vml]>

<![endif]>
Habitat homes are constructed primarily by volunteers, using both donated and purchased building materials. It takes approximately six months to complete a Habitat house.

Our partner families fulfill their required 300 hours of sweat equity by helping build their home and by assisting with Habitat fund raisers. Some of our houses are partially sponsored by churches, businesses, organizations, or individuals.

We sell our houses at no profit, offering our partner families a 20-year, interest-free mortgage. Monthly payments range between $450 and $500, depending on taxes and insurance. The monthly payments are then used to help fund the building of more houses. We also tithe 10% of our income to Mexico Habitat for Humanity which is normally enough to build one house in Mexico for each house we build locally. Donations, which are tax deductible, are always welcome.

Becoming one of our partner families is the beginning of a long-term relationship with us. To become a partner family, the applicant must

Demonstrate a need for better housing

Have enough yearly income to meet the financial responsibilities of home ownership

Be willing to partner with us by providing 300 hours of sweat equity working on their Habitat house.

Once an application is completed, it is carefully reviewed by the Family Selection Committee of the Arkansas City Habitat for Humanity organization and a home visit is made. Qualified applicants need to be approved by the Arkansas City Habitat for Humanity Board of Directors.

Mike and the "baby" of the Segree family, Miley,

break ground together.

Recipients of House 13 breaking ground.

While most volunteers choose to work on-site, there are several other opportunities for volunteering in our organization. All of the committees are made up of community volunteers including:

Family Selection Committee

Church Relations Committee

Site Selection Committee

Family Support Committee

Publicity Committee

Volunteer Recruitment Committee

Fund Raising Committees

To volunteer, contact us by:

We will provide additional information on opportunities for you to volunteer.

The location of our current worksite can be obtained by calling the above number. Anyone over the age of 14 can volunteer, though there are some limitations for volunteers between 14-18 years of age.

We welcome all volunteers!