Building Homes, Building Hope!
Arkansas City Habitat for Humanity is a non-profit, ecumenical Christian ministry whose mission is to partner with qualified families in need and provide them the opportunity for safe, decent, affordable housing.
Applications will be accepted from February – May 15th. The partner family will be selected by the first of June, The house will begin building in September and be finished by the end of February.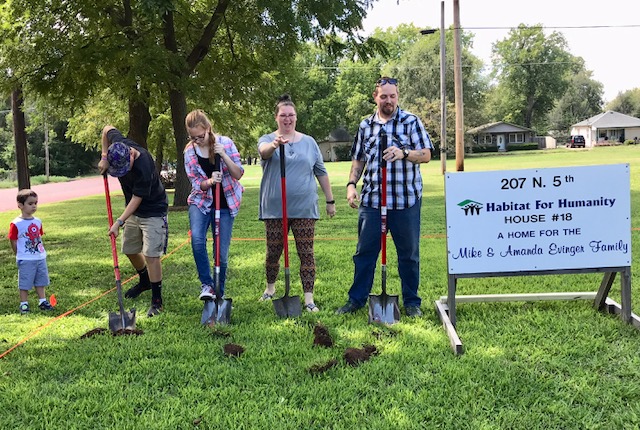 Press Release
Habitat for Humanity Home
Mike and Amanda Evinger
The ground is a little muddy right now on this corner near Francis Willard School. It is basically just a vacant lot with a lonely storage shed standing in one corner. There are no pretty flowers, no a drive, no house just a cold concrete slab; but, to Mike and Amanda Evinger this is the best lot in Ark City.
This is the place they will call home early next spring. This is the place where holiday dinners will take place and marathon game nights will capture the family. This is where three children will giggle with friends and where this family will make forever memories.
Mike and Amanda Evinger were recently selected to be the host family for this year's Habitat House. This is the year their dream of 14 years came true. They had applied before but the call never came. When they got the call from Pam Archer, Habitat board member, both Amanda and Mike admitted there were tears of joy from everyone. "I had to ask her to repeat what she said again," Amanda admitted. "I couldn't believe it. We had waited for so long.",/
"The worst part was that we couldn't say anything for a week," said Amanda. "Our families had been praying with us non-stop so waiting to tell them was really hard. The support of our families has been enormous. They have already started helping us to work toward the required 300 hours of sweat equity Habitat requires. Our friends and family can count 100 hours of time, but the immediate family will do the rest."
Press release courtesy of: Christi Rogers



To get a better understanding of what Habitat for Humanity does, please watch these videos.

The Leyva Family 2016-2017 Recipient

Cohr and Jennings Family 2015-2016

Townsend and Segree Families
Thank you Cowley College for producing these videos.
<![if !vml]>

<![endif]>
Habitat homes are constructed primarily by volunteers, using both donated and purchased building materials. It takes approximately six months to complete a Habitat house.

Our partner families fulfill their required 300 hours of sweat equity by helping build their home and by assisting with Habitat fund raisers. Some of our houses are partially sponsored by churches, businesses, organizations, or individuals.

We sell our houses at no profit, offering our partner families a 20-year, interest-free mortgage. Monthly payments range between $450 and $500, depending on taxes and insurance. The monthly payments are then used to help fund the building of more houses. We also tithe 10% of our income to Mexico Habitat for Humanity which is normally enough to build one house in Mexico for each house we build locally. Donations, which are tax deductible, are always welcome.

Becoming one of our partner families is the beginning of a long-term relationship with us. To become a partner family, the applicant must:

Demonstrate a need for better housing

Have enough yearly income to meet the financial responsibilities of home ownership

Be willing to partner with us by providing 300 hours of sweat equity working on their Habitat house.

Once an application is completed, it is carefully reviewed by the Family Selection Committee of the Arkansas City Habitat for Humanity organization and a home visit is made. Qualified applicants need to be approved by the Arkansas City Habitat for Humanity Board of Directors.

Mike Evinger and family on ground breaking

Mike Evinger Family and the Habitat Board

While most volunteers choose to work on-site, there are several other opportunities for volunteering in our organization. All of the committees are made up of community volunteers including:

To volunteer, contact us by:

We will provide additional information on opportunities for you to volunteer.

The location of our current worksite can be obtained by calling the above number. Anyone over the age of 14 can volunteer, though there are some limitations for volunteers between 14-18 years of age.

We welcome all volunteers!